Friday, January 17th, 2014
Happy Friday!
I hope it's a happy Friday for everyone! Here in So Cal, we've been unseasonably hot and dry with winds, which means fires.  The dry weather is making everyone miserable with sinus and allergy problems too. We desperately need some rain!
Here's a quick pic of Bailey. BLB (youngest son) went to see him and sent me this pic. He said Bailey's doing fine, he just can't jump. I'm not sure why Bailey was in his kennel–maybe he was sleeping when BLB visited him at Middle Son's.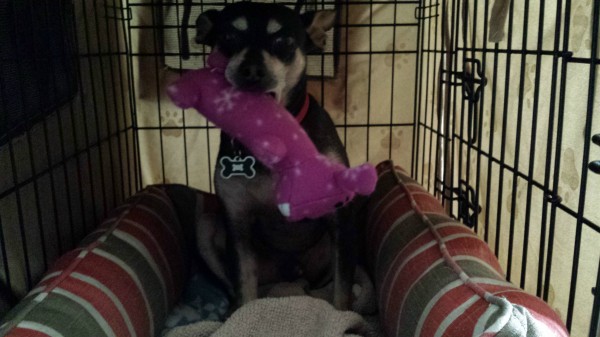 This weekend I have to write but I'm going to meet  Biker Witch (my sister) for lunch on Sunday. What are you all doing?