Wednesday, May 28th, 2014
Wednesday Worthy
I'm back and can't believe it's Wednesday! The weekend flew by! Sunday we had a blast celebrating Middle Son's birthday–but by Sunday night I was exhausted.  When all the kids, their girls and Bailey are here, it's just too much fun.
And I have a tip for you all. Never, under any circumstances, should you let BLB (youngest son, who is an adult) make you a drink. He offered to make me one while we were in the kitchen cooking. I said, "Okay sure, go ahead and make me a gin and tonic."
I kind of forgot about it while I was prepping the food, then I noticed the drink and took a sip. Holy Crap! I said, "BLB how much gin did you put in here?"
He shrugged. "I didn't know where the shot glass was so I just poured it in." Then me smirked–a lot like his dad (and the guy in the picture below).
While I'm rolling my eyes trying to figure out if I should call a hazmat team, to safely dispose of the drink, Wizard strolls in the kitchen, scooped up the glass and takes a sip. "Tastes fine to me. You don't want it?"
I swear Wizard has a cast iron stomach and super-sized metabolism. "Go right ahead, it's all yours."
Wizard took the drink outside to resume supervising Middle Son and his girl friend –who were doing something with beer to the carne asada marinaded skirt steak on the grill. Now I realized why Wizard stole my drink–he needed the alcohol to dull the panic. Last time Middle Son's girl friend "doctored" up his hamburger meat, poor Wizard almost had a stroke. Now they were not only messing his food but his beer and his beloved BBQ.  Yep, he needed that drink more than me!
The carne asada fajitas turned out awesome! Even Wizard approved!
I'm back at work now, writing as quickly as I can on EXPOSING THE HEIRESS and gearing up for the release of HER TEMPORARY HERO on July 28th. Everyone is excited about HER TEMPORARY HERO, so I hope that's a good sign. In the end, though, it's up the readers to decide.
Tomorrow we have the funeral for Wizard's aunt, so that will be a day off work to be with family. 
And now switching gears, our Wednesday Worthy Candidate came to us with a fully-loaded smirk: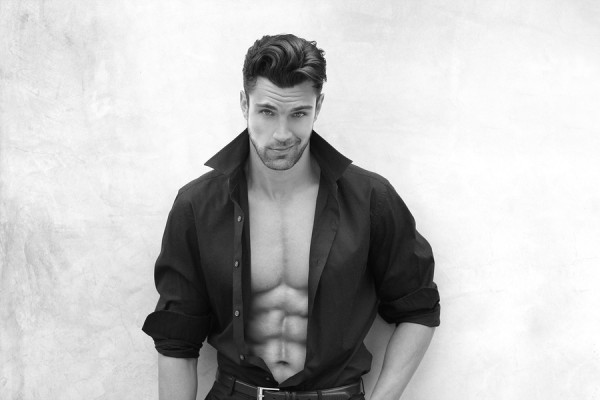 So do you think he's worthy? And how was your weekend?