Friday, November 7th, 2014
Happy Friday!
Man I think I'm still full. Yesterday was our anniversary, so we went out to dinner. It was sooo good! Then Wizard insisted we order dessert. So we ordered chocolate cake to split (they have great lobster, but their dessert menu is limited). Anyway, I'm still full.
And I'm going to the gym today. I am! Maybe…
So yesterday I put a Happy Anniversary to Wizard post up on my personal FB page. Special K (CPA boy's wife) saw it instantly. But Wizard hadn't seen it yet and had no idea.
His phone dings a text and Wizard says, "I bet it's Middle Son about going radio control car racing on Sat." Then he looked at his phone and let out an exclamation of surprise. "It's Special K. Hmm, that's unusual in the middle of the day. Wonder what she wants?"
"I don't know, read it." And I totally did this completely believable innocent expression: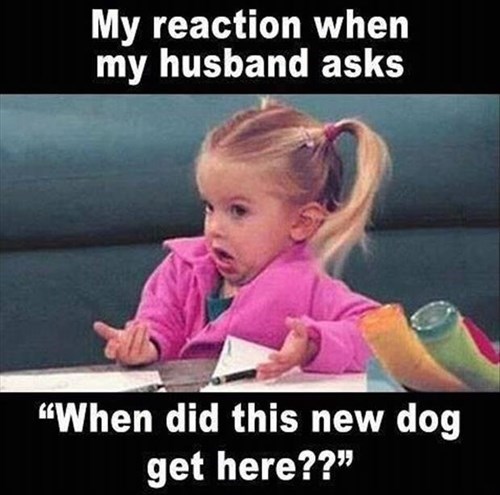 Wizard was too excited to read Special K's text to pay attention to me. He read it out loud, "Hey Dad, you should get Mom a French bulldog for your anniversary. Mom would love it so much."  Wizard is totally baffled, sort of like this: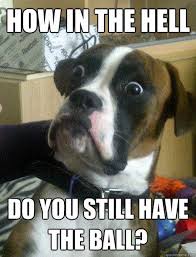 He turned to me. "How does Special K know it's our anniversary?"
I know,you're all thinking, "Um, duh, she's married to your son. Surely he knows and told her. But nope, the kids don't remember our anniversary because we've never made it a big deal with them. We've always chosen to do something special for the two of us, even if it's just dinner out together. So Wizard is puzzled. Then the light went on and he turned suspicious eyes on me. "What did you do?"
I burst out laughing. "I'm not telling, but I tagged you on FB."
He found it instantly, I posted an old picture from out wedding from so very long ago. Our wedding pics are pretty bad, but he was still entertained by it. And evidently so was Special K., LOL! And for the record he texted her back that he got me a horse, not a dog. A Mustang.  He means the car. Which is a joke because I didn't get a dog, horse or car. But I did have a great day and dinner with Wizard so I'm happy. (And for the record, we agreed on no gifts.)
This will be a working weekend for me. I  love this story, but I'm feeling around for the best way to tell it. It just takes time and focus. What are your plans?