Monday, November 24th, 2014
Weekend Roundup
First, we didn't have Bailey which is a bummer, but we'll go visit him soon

Okay so this weekend got kind of crazy.
1) I had to have my lawyer review a contract, that turned out to be very simple. I wish it was always this easy! I'll tell you more on that later, but it's NOT a new book. More of a part two of a previous contract. (Yeah, I know that sounds confusing).
2) I'm making progress on Linc and Risa's book CAGED MAGIC. It's hard work but I'm loving the challenge. I'm "all in" which means the book is taking up of my brain power and I'm fighting for the best way to tell this story, as well as the Ram and Ginny, and Eli's story lines that are weaving through there.
3) Then I got an email from my editor on EXPOSING THE HEIRESS (book 3 in Once A Marine). They've decided to move the series to the Ignite line with has more suspense and more sex. Okay, so I've already ramped up the sex, but now a different editor would like to see even more suspense.  Which isn't a surprise to me, I more or less saw this coming and yet I'm still panicking and hyperventilating.  I've committed to getting CAGED MAGIC to my freelance editor Feb 1st and I need to get this book revised while doing that, plus the holidays.
4) Wizard sees this panic and last night, he piled me into the car and we went to…The Kitchen Store. Nothing like buying a new sifter, two different sizes of muffin pans and cookie/muffin scoops to take my mind off work stress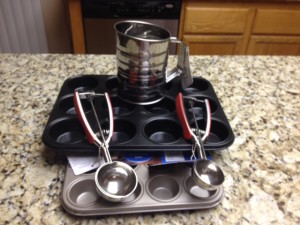 Wizard knows I stress-bake and he benefits from this addiction. (I try to stress exercise too, but that's happening less these days) Anyway,  I had mentioned to him that I wanted to try pumpkin cheesecake muffins so he decided to "help" by making sure I had the tools. LOLOL!! But it really did help to get out and have a little fun.
5) Thanksgiving. As much as I enjoy doing the Thanksgiving holiday, this year I'm grateful it's not at my house. We're going to my sister in law's and all I have to bring is deviled eggs. So easy! It'll be fun.
How was your weekend? And what are you doing for Thanksgiving?