Friday, March 6th, 2015
Happy Friday!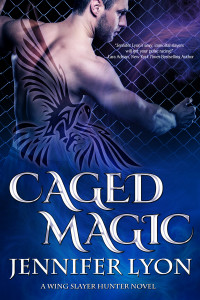 I finished CAGED MAGIC! I sent the manuscript off to my editor (Sasha Knight) on Wednesday and I was both ecstatic and terrific.  After so many roadblocks and heartbreaks, finally writing the book is a feeling accomplishment. A SWEATY accomplishment since I've spent that last six weeks getting up at 5am, working until I ran out of steam at night and having zero life to finish it. But I didn't care, I had to tell this story.
All that said, I'm also terrified and worried that the book isn't good enough, and can't be saved through revisions. However, I'm going to spare you all my usually belly-aching worryfest! You're welcome

You know what I'm doing instead? Wizard and I are going out to dinner tonight to celebrate. And tomorrow, I'm going to have lunch with Biker Witch, my long suffering sister, and catch up with her.  Whatever happens with CAGED MAGIC, I finished the book, I fulfilled my promise to Linc and hopefully to readers (we'll see) and I'm going to celebrate.
And then I have to dive into doing another round of edits on the next Once A Marine Book. I haven't read through them yet, but they should be pretty straight forward edits and need to be done quickly before CAGED MAGIC comes back for revisions.
So what are you doing this weekend?