Monday, October 19th, 2015
Soul Magic is Live! Plus Weekend Round Up
I'm all pumped up, but before I get to that, let's take care of some business: The re-release of SOUL MAGIC is Live! You all know that I'm re-releasing the first four books in the Wing Slayer Hunter Series. Blood Magic, book 1 is already out, Soul Magic is out today, and Night Magic releases in two weeks then Sinful Magic two weeks after that.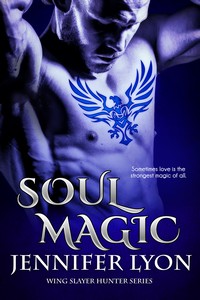 Kindle / Nook / iBooks / Kobo / Google Play
Now for the Weekend Roundup section of the blog: I had a great weekend. First, on Friday I admitted that I had a problem on the book I'm writing. I kept getting to about the 50 page mark and stalling. I knew I had a problem but I kept pushing through thinking I'd fix it later. That's like trying to fix a problem with the foundation of your house AFTER you've built the house. Not smart or efficient and my subconscious knew this and kept putting on the brakes. After endless frustration I finally threw in the towel and stopped trying to force it. I decided to take the weekend to re-plot this section, which involves the first meeting of Justice and Lizabeth.
Saturday we got up early (Okay I'm always up–ask Wizard. Sleep eludes me.) And by 8am we were on the way to the auto show. Wizard and I talked about my book and brainstormed ideas, then I forced myself to drop it once got into the show.  I was doing this for Wizard and wanted to just have fun. We enjoyed looking at all the cars. Then we went downstairs to the "exotic level" and I found the car I wanted.
This picture is a bit blurry and I'll explain way in a second.
This is a gorgeous Maserati. I told Wizard I loved it and stepped around two other men to take a picture as Wizard was telling me that the UK (United Kingdom) division of the company he retired from made the panels for the car. Just as I set up to take the picture, I heard Wizard call out two very familiar names. And I turned…
Standing between Wizard and me were two of the people he worked with from the UK!! Wizard has known them for years!! It was such a freaking coincidence. We were all so focused on the car, and talking about the panels being made in the UK, and here we were standing next to two of the people from that company! Anyway. I'd turned just as I snapped this pic, and didn't take anymore because we ended up talking to the two men. It was so freaky to run into Wizard's former colleagues like that. Even funnier we all had been standing there probably a full minute before noticing one another.
Anyway, we had a blast, then on the way out, I snapped some pictures from the Jeep area where Jeep employees were driving over obstacle course.  Then I sent the pics to BLB (Youngest son who has a Jeep) and said, "Hey I was out test driving Jeeps today." He's my least gullible kid so I knew he wouldn't believe me. Here are a couple of the pics.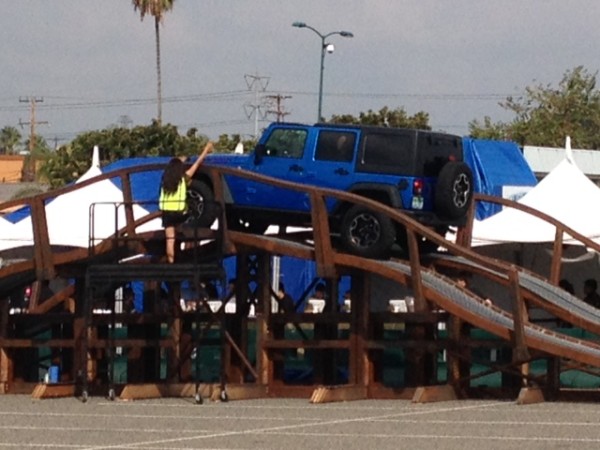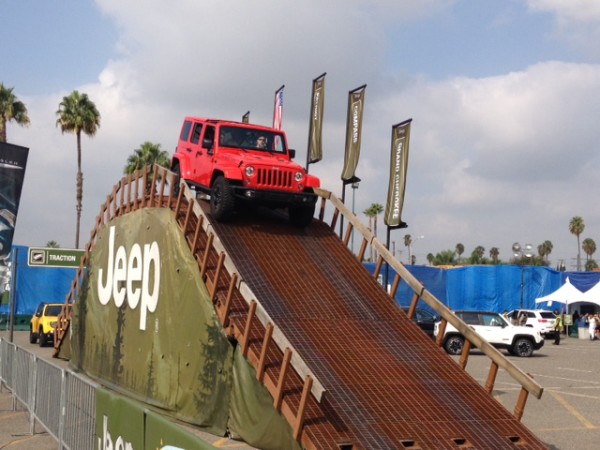 HE TOTALLY BELIEVED ME!! Which is hilarious because I'm scared when he takes me dirt driving over hills half that size! I laughed so hard that I was still laughing when BLB stopped by to visit on Sunday

And Sunday, one of the idea Wizard had suggested took root and grew. I did a bunch of research yesterday and am so happy! This fills in a lot of blanks, and if it works on paper as well as I think it will, then I can't wait to get started writing it today!
So how was your weekend?