Friday, December 4th, 2015
Happy Friday!
Okay some of you may be aware that Wizard and I are fairly close to the mass shooting that happened on Wednesday in San Bernardino, CA. We are fine. Emotionally, we are as upset, horrified and outraged as all of you, but we weren't in any danger. I'd like to give a huge shout out to first responders, emergency workers, law enforcement agencies and support personal. While they couldn't save everyone, their quick actions very likely prevented even more injuries and deaths. And I'm going to leave it at that because I want to this blog to be a place we can come together to have fun, to support each other, and to care about others. But we won't give any emotional energy or power to those who are evil. So moving on…
Happy Friday!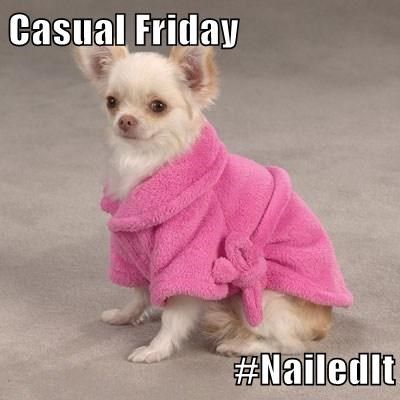 I'd love to have a Casual Friday, writing in my comfy clothes all day! However, we're going to be gone all morning doing some followup with specialists for Wizard. It should all be fine, but we need to do the follow ups with two different doctors just to be sure. But if everything goes the way we expect/hope it will, then life will return to normal which is awesome.
Yesterday oldest son stopped by since he had a meeting in the area. Oldest son is the one who broke his wrist, but he got the cast off Wednesday and is doing well. He's so happy. The fracture is healing solidly and he can SLOWLY do some rehab on it. He misses weight lifting but it won't be long before he can start again.  It's nice to see him without the cast. He didn't complain much, but I know that wrist really ached for a couple of weeks, and the cast was annoying.
By the way, when Wizard was in the hospital, Oldest took me out to the store to get things I needed for Wizard when he came home.  He insisted on driving and pushing the cart…all with his broken wrist. Everyone looked at me like, What is wrong with you lady? Can't you see he has a cast on? Help him! But anytime I tried to do anything, Oldest got all snarly. He's so much like his dad! I probably won't be winning Mother of the Year Award this year.
This weekend, I'm going to try to write and clean. I'm going to have to start Christmas shopping too, but I'm finally getting in the mood so it's all good. It'd be even better if I could sleep a full night, but we can't have everything we want

What are your plans?