Friday, April 7th, 2017
Happy Friday!
Happy Friday! So despite all my bragging about how I usually just shake off a cold, this one refused to leave. It's entirely possible I may have been ignoring how sick I was to get Savaged Vows done and off to my editor. Anyway, by the time I went to the doctors, I was in a fog and got lost INSIDE the small doctor's office.
Twice.
You're thinking that's impossible right? Well, I was following the medical assistant back to the exam room, and for reasons I can't explain, I turned into the wrong exam room and sat down. And waited, wondering where the medical assistant went…until I heard her calling me name trying to find me.
That was bad enough.
Then after I saw the doctor (sinus infection, which by then was glaringly obvious to everyone but me) I tried to leave. This involved walking straight down a hallway and out the door marked "Exit."
I walked through the door marked "Office."
FYI, the doctor's front office staff were all very nice. They were kind enough to wait until I left to roll their eyes and snicker.
Sigh, okay, fine. I admit I was sick. Wizard, of course, was all sympathy and sweetness…up until Wednesday night. Wizard was watching TV while I was reading and he kept looking at me. He'd been doing that all day long. I mean every time he thought I wasn't paying attention I could see him looking at me with an expression that resembled this: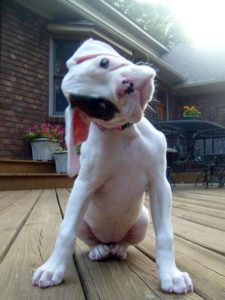 I was starting to get annoyed and finally snapped at him, "Why do you keep looking at me?"
He smirked and said, "I can't look away. You're like a train wreck."
I snorted and laughed, then I was pissed because he made me laugh and that made my head hurt more and also…WIZARD, WHO GAVE ME THIS COLD WITH NINE LIVES OF MISERY, WAS LAUGHING AT ME.
You're laughing now too, aren't you??? It's okay I was a train wreck, and I looked it, LOL! We'll both be fine soon.
I've been catching up on life, working on Savaged Dreams promo/marketing plans, and spending a lot of time reading. My formatter is getting a book of mine reformatted with a bonus scene–which is part of my overall marketing plan too. I'll be doing more of the same thing this weekend, and I'm hoping to see Biker Witch once I'm sure I'm not contagious.
What are your weekend plans?