Monday, October 2nd, 2017
Weekend Roundup!
**Edited To Add: I just woke up to the news in Vegas. I've only read the headlines, but I'm horrified, sad, furious and my heart goes out to all the victims and their loved ones, and to all who went through the trauma. I just ranted on FB so I won't repeat it here. But the post below is full of chatter and I didn't want you all to think I'd do that after the awful mass shooting in Las Vegas.**
I'm back after being taken down by a stomach virus.  I was so sick, I think I saw my spleen…ugh. And in the lovely process of performing an up close inspection of my toilet, I wrenched something in my back, probably the latissimus dorsi muscle.
Wizard just shook his head in disbelief and muttered, "Only you." I know he meant that I'm a rare gem and he's incredibly lucky to have such a uniquely beautiful and amazing woman as his wife.
Anyway, the nausea mostly abated by early Friday morning and all day Friday and Saturday, I was a zombie, mostly eating saltines and drinking water, weak tea and Seven Up. Finally yesterday I bounced back, Yay! The pulled muscle still hurts, but I can deal with that and will still fly to Tampa on Wednesday. The only thing that will stop me from getting on that plane is either getting distracted by a herd of adorable puppies, or Wizard getting sick. So far Wizard seems fine, but we'll see.
Now for a sad and somber moment, most of you probably know the wonderful and kind romance author Carrie Ann Ryan's husband suddenly passed away last week. He was only 32 years old. My heart bleeds for her, and all his family and friends. What a sad tragedy. I can't even image that her heartache. Here is the link to the funeral obituary and information. Carrie Ann is so very kind and positive, she's been lovely to me any time I've talked to her online, and she once wrote a business focused blog for us here. Please keep her in your thoughts as the days, weeks and months ahead will be difficult.
Okay and a little book news. After getting so ill, I knew I had to step back from my book so I reached out to my editor to discuss it. I had two options, I could give her what I had which is over 350 pages, or deliver later. It turned out to be the perfect timing for her to delay my delivery so it's a win-win, and I'll deliver the book in another month. We're both excited for this book, and she's been wonderfully supportive as I've struggled to write around health issues.
Oh!! The shots…they are helping! I'd say I have about a 20% improvement and while it may not sound like much, it's an excellent indicator that the full three-session series will provide real relief. The medical staff told me the once the burn on the right sight eased up, I'd probably start feeling it more on my left side and they were absolutely right. The intensity of the right side pain was masking the left–all very interesting. Which tells me they know what they are talking about. Again, all the burning is coming from my cervical spine, but this is all moving in a positive direction. There's other issues with my rotator cuff we're working on in PT. And one day, I will make it off the injured list!
I'm going to tell you all about my secret, fun news (non writing or grand baby related) when I get back from NINC. I've babbled on enough for today. Just for fun, here's what happens when I get a bright idea during a pedicure. I saw the pretty blue polish and said, "Can you do a starfish?"
The girl looked up a picture on her phone, showed me and I didn't love it. But I figured I'd try it. I was right that I wouldn't love it, but it's fun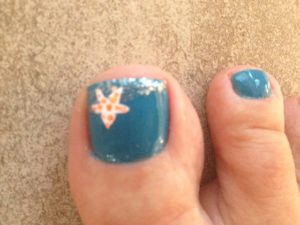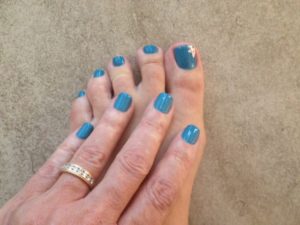 Okay if you made it through this long chatter fest of a blog, how was your weekend?