Monday, April 29th, 2019
Weekend Roundup
Yesterday, Youngest and his fiance came over to discuss the guest list for their wedding in November. I'm excited for them! We were talking about the rehearsal dinner too. It's getting real

I'm also excited for CPA Boy, but I can't talk about that yet. But here's a hint, it's NOT another baby. Right now, Turbo is still king.
And in other news, I was out picking up some shorts I ordered, and saw a very bright green and pink dress (on sale, of course!) that looked kind of, sort of tropical, so I bought it for Hawaii. Here's a quick pic of it, but note that Wizard said, "It looks much better on." Whatever. I was too lazy to put it back on, then take a picture, then write the blog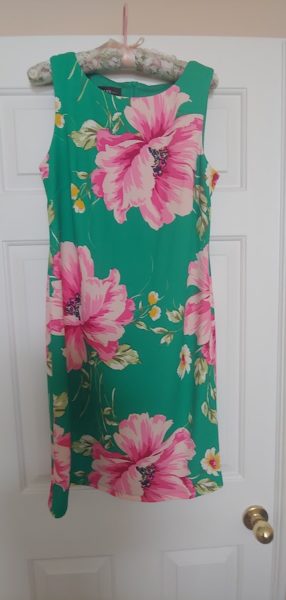 I've shopped more lately than I have in years. Most of it's just necessity to retool a wardrobe to something slightly more appropriate, but this dress was just because the colors made me smile. I normally would never even put these colors together, LOL!
That was pretty much my weekend. How was yours?