Monday, October 24th, 2022
Weekend Roundup (The Rambling Version!)
It was a beautiful weekend weather-wise! Saturday was cloudy and sunny, with a chance of rain that never happened here. Sunday was mostly sunshine with clouds and about 70 degrees. The best weather ever!
Here's a pic from Maggie and I hiking up the dirt road behind our house.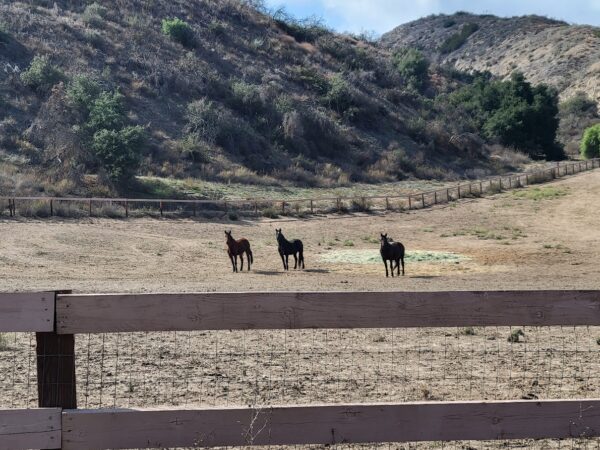 Horses! I actually know very little about horses. They were grazing when we walked by and walked a bit closer to see or smell us. Maggie and I didn't stay too long, I don't want to stress them. As I said, I don't really know enough to read their body language and be able to judge if we were bothering them or they were simply curious. This is the second time Maggie has seen them. The first time she was very curious and mildly concerned. This time, she looked and then kept going. It's good exposure for her.
On Saturday, Wizard and I were finishing breakfast when youngest called and asked if Wizard needed his help. He came over a few hours to help cut out more wood. Wizard was happy, and so was Maggie

Fun fact about Maggie, I've had her out in the garage with us a couple times while Wizard used the table saw and circular saw. They don't bother her at all. But the cellphones make her anxious. The dog is, well let's just call it quirky.
Sunday I ran over to youngest's for a while to see him, his wife and Phoebe. Very fun! Phoebe is hilarious, when I slow down petting her and talk to her mom and dad, she groans or sits up and puts her face in mine to remind me of my duty as a doggy grandma.
Did I show you guys my daughter-in-law's housewarming gift?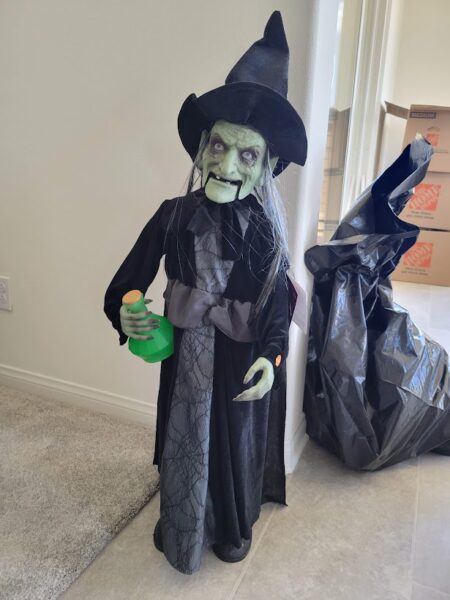 She's a witch for Halloween! She cackles and talks, and I love her! My daughter-in-law brought it over the day we were moving in, which is why there are stacked empty boxes and a huge bag of trash behind her in the shot. Now she's outside entertaining everyone who comes to the door. One of the delivery guys even asked to take a picture of her, LOL!
In case you're wondering, the witch cackling and talking only made Maggie curious enough to check her out but not anxious. She just hates cellphones. We're pretty sure she's in witness protection, it's the only logical explanation of why she hates cellphones and refuses to have her picture taken.
Let's see, otherwise it was just a weekend filled with normal weekend stuff. There's so much to do, and definitely not enough budget for everything, but it's all good because we're in the house and don't have to worry about all the things that got us here! Being busy now feels like we're living our lives not waiting around for the next phase of life to begin.
So that was my weekend, how was yours?