Thursday, January 22nd, 2009
Guest Blogger: Maureen Child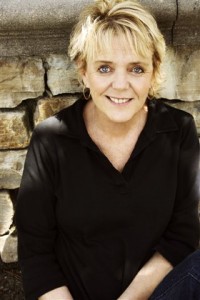 Today, I have a very special Guest Blogger: USA Today best selling author  Maureen Child.  Maureen has published over 100 books and novellas,  is a six time nominee for the prestigious Rita award from Romance Writers of America, and one of her novels, A POCKETFUL OF PARADISE, was made into a CBS-TV movie called The Soul Collector,starring Melissa Gilbert, Bruce Greenwood and Ossie Davis.  Maureen is also a voracious reader, and loves the paranormal genre, which clearly means she has excellent taste! Maureen is  here to tell us about her latest book  BEDEVILED, and pay attention because she's giving away a free copy! Welcome Maureen!
Hey Jen, thanks for inviting me to drop in on your brand new site! Very nice and can't wait to get my copy of BLOOD MAGIC!
I'm actually here today to talk about my new release from NAL. It's called BEDEVILED and that's the cover below. Is that gorgeous or what? And, speaking as the writer, I'm going to say the story's really good, too. BEDEVILED got a starred review from Booklist, too, so I'm not the only one who thinks so! (okay, that's enough for brag mode)
I absolutely love the paranormal. Dark. Light. Scary. Funny. But when I'm writing them, I've got to have some humor in there. And I think BEDEVILED really comes through in that department.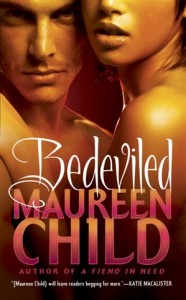 Maggie Donovan is a perfectly ordinary woman. Until the day she sees her ex-boyfriend being eaten. (Not in a sexual way, either)! Anyway, in the incredibly clumsy fight for her life, Maggie ends up inhaling what she finds out later, is Faery dust. And that dust is changing her whole world. Suddenly, she's super strong and has a tendency to float when she's not holding onto something. But that's just the beginning of weird.
Culhane, a centuries old Fenian Warrior for the Fae arrives to tell Maggie that she is the Destined Queen of the Fae. The only trick is, she has to defeat evil Queen Mab to claim the throne. No problem, except that Maggie doesn't know how to fight, doesn't have time to fight and hey, has zero interest in being the Queen of a world she never even knew existed until like five minutes ago.


Plus, Maggie and Culhane have a much deeper connection than she knows. But then, Culhane has this pesky connection to Mab, too…
 I hope you give BEDEVILED a try and if you do, hope you love it! I'm going to give away a copy of BEDEVILED to one of the posters here today, so tell me…
How do you like your paranormals? Light? Dark? Funny? (Come on, vote for funny!)
Every comment will be entered into a drawing to win a free copy of BEDEVILED! The winner will be announced this weekend.