Tuesday, February 3rd, 2009
Blind Date Witch
The prize for this week is the peace, hope and serenity bracelet. As usual, I'll randomly draw a name from this week's comments and announce the winner on the weekend.
You know you're on a blind date with a witch if:
1) There's a broom parked outside the restaurant.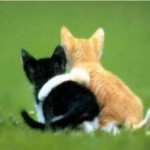 2) She turns the waiter into a frog when he asks her if Diet Pepsi is okay instead of Diet Coke.
3) If she insists her black cat come along and have dinner with you.
4) If she pulls out a bubbling cauldron and asks for one of your hairs for a little spell she's working on.
5) If, while she's talking, you answer your cell phone and it turns into a snake.
That's just to get us started. What can you all come up with?