Monday, February 23rd, 2009
One More Day…
 One more day until the official release of BLOOD MAGIC!The book may already be in some stores–these "drop dates" can be a bit flexible.  I just can't believe it's here! But the waiting has actually been fun…because of you all! You guys have been a blast! I really hope you all keep hanging around even after the Cyber Launch Party is over.  Which brings me to the next point, tomorrow, February 24th, I draw the Grand Prize!
This is an ENLARGED picture of the necklace: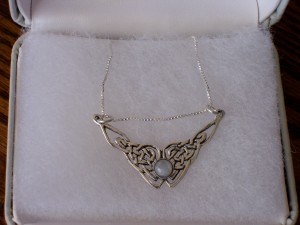 The actual size is  30 by 46 mm.  You can find out more at Silver Enchantments where I ordered the necklace.  All the comments from the last five weeks and today, will go into the Glittering Purple Hat where the random witch generate will select one winner.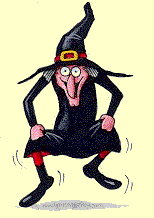 Now, let's all give a big shout out to our friend, KATE CARLISLE!
Kate's book HOMICICDE IN HARDCOVER hit #34 the New York Times Times List!
Let's all raise up our appletinis (no spilling!)  and dance a jig for Kate!
Question of the Day:  On a scale of one to five appletinis (five being the best), how much does it rock when our friends achieve their dreams like Kate?