Saturday, February 21st, 2009
Winners!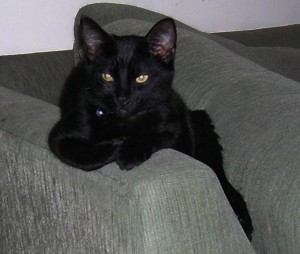 I had a very special guest to help me draw the winners…
This is Ninja Face. He was my son's cat when he was in college, and then my son had to move leaving him with a roommate. (Ninja Face is fine, happy and fat, except for the Really Stupid Name. My son named him Ninja Face. I can't explain it…perhaps I had too many appletinis when he was a baby and dropped my son on his head?)
Still Ninja Face agreed to help me choose the winners…when he gets around to it.
Have you ever noticed that Cat Time is way different from Human Time?
 Finally I got him to get off the couch to saunter over to the Big Purple Hat.
And the winners are: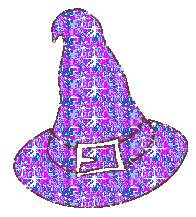 MEL K is the winner of the autographed book from Nalini Singh! Congrats Mel! Email Nalini at email hidden; JavaScript is required
and let her know which of her Psy/Changeling books you'd like, and your mailing address.
REBECCA wins the CHARMED third season DVD set. Congrats Rebecca! Email me at email hidden; JavaScript is requiredwith your mailing address.