Thursday, February 19th, 2009
Guest Blogger: Nalini Singh
It's week five of the Cyber Launch Party!  The prize is the DVD of the third season of CHARMED, and I'll pick the random winner from this week's comments.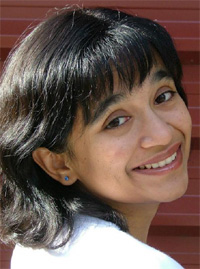 I'm so excited about our guest blogger today! Last year, I picked up New York Times and USA Today bestseller Nalini Singh's book HOSTAGE TO PLEASURE and became an instant fan girl. Nalini's Psy/Changeling world fascinated me. And now, she's embarking on an exciting new series with the release of ANGELS' BLOOD March 3rd. Romantic Times chose ANGELS' BLOOD as a Top Pick, calling it "Tremendous!", while Night Owl Reviews called it one "heck of a ride." Join me in welcoming Nalini Singh!
 Location, location, location!
Nalini Singh
First up, thank you to Jennifer for inviting me to guest on her blog. I thought it might be fun to talk about story locations today.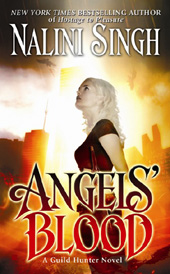 My March release, Angels' Blood, kicks off the Guild Hunter series. Angels' Blood is set in New York City. I had to change the geography of the buildings a little bit to insert Archangel Tower and a few other things, but the physical geography remains the same. So does the technology, as the book is set in the present day.
I didn't consciously sit down and choose NY as the setting for Angels' Blood. I simply knew as soon as I started writing it, that there was no other place it could be set. The city is urban, beautiful, and yes, it has a dark side. All those elements tied in perfectly into the story.  
But more, it was the feel, the beat of the city that was important, because the angels and vampires in Angels' Blood aren't reclusive or hidden. They're very much active in the present, very much part of the world. We see the city through their eyes, and New York's mix of sophistication and hard edges suits them far better than a "softer" city ever could.
I think setting can play an important part in a book, whether it's described in depth, or mentioned in passing. As a reader, I often don't pay attention to a setting consciously-sometimes, it's only after I close the book that I realize how much it helped shape the story.
 How about you? Is setting important to you? Are there any settings, whether present day or historical, that you particularly enjoy?
 Everyone who leaves a comment goes into a draw to win a signed copy of a book from my Psy/Changeling backlist (i.e. published before 2009). Prize will be posted out in March.
 You can read excerpts at my website: http://http://www.nalinisingh.com/