Thursday, March 5th, 2009
The "More" Book
I stumbled onto this review the other day that ended with:
"…In closing, Blood Magic made me want more. More witches. More witch hunters. More sex. More. More. More."  You can see the whole review here if you wish.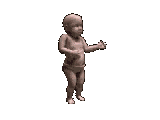 That line cracked me up! Actually I loved it and danced like a baby!
We all know those books, the MORE BOOKS, where we just hate reading that last page.  For me, DARK LOVER was like that, so was OUTLANDER and, hmm, NOBODY'S BABY BUT MINE…and probably at least a 100 other ones.
So what are some of your MORE BOOKS?