Thursday, April 9th, 2009
Calling Dr. Bombay!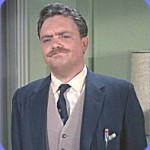 Emergency, come right away!
Anyone remember Dr. Bombay from Bewitched?
Remember his dubious cures?
Remember the way he used to chase his nurses?
I think I met Dr. Bombay yesterday! No I'm kidding, sort of.  So for the last week or so, I've been having jaw/ear pain on the left side.
First I tried my usual cure–ignoring it. I'm actually very gifted at ignoring what I don't want to deal with!

But after a few nights of waking up at 2am in pain, I was getting a tad cranky.  So I relented and made a doctor appointment. I know it's probably either a mild ear infection or TMJ, or something like that. Yesterday I went into for the doctor visit. In minutes, I started to feel like Samantha with her weird symptoms.  BEFORE the doctor even came in, I was asked over and over to describe the symptoms.
The nurse leaves, and when she returns,  she's dragging a machine with a million wires.  It looked like something Dr Bombay used to cure Sam, but it was an actually an EKG machine. They thought I might be having a heart attack.
Okay, okay, I know woman have silent heart attacks, and sometimes jaw pain can be a symptom…but seriously?
It was forty minutes before I ever saw the doctor and another half hour before I got out of there, only to be sent to another town for a full set of x-rays.
The end result? Nothing yet. I'm pretty sure I'm not having a heart attack, and there doesn't appear to be any infection.  Eventually someone will read the x-rays and call more…or not…who knows.
I think I should have just called Dr. Bombay.
So do you all remember Dr. Bombay? Do you think he could cure my jaw/ear pain? Do you have something we can ask Dr. Bombay to cure?