Friday, May 8th, 2009
TGIF!
Happy Friday! And now, let's raise our glasses to moms everywhere…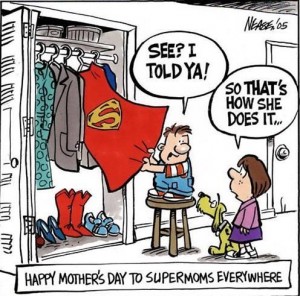 Did you ever think your mom was a Superhero? I sure didn't while growing up.   I do remember thinking my big brother must be a superhero because he could break boards with his hands and/or feet and was a black belt in karate. Years later, I learned their was  technique to it, LOL!
But I'm off the track.
After I grew up and had my own kids, I started to understand that any woman who survives raising her kids is a superhero!  But my mom–she rocked because she believed in me each and every day of all the long years I struggled to publish. Then I got the call and she was truly over the moon. She told EVERYONE she could find. Unfortunately, she passed away before the book came out, but still, that first time I held my book in my hands–I knew she was there.
So what about you all? Is your mom a superhero to you?
Have a great weekend! Happy Mother's Day!