Tuesday, June 2nd, 2009
Cover for SOUL MAGIC!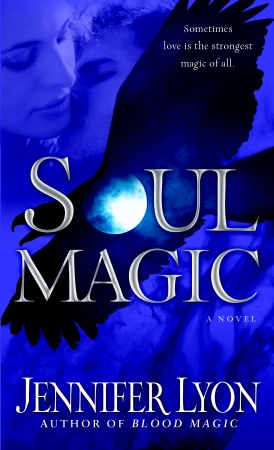 Here's the cover for SOUL MAGIC! The book will be out November 24th 2009.
 From the back cover: 
KISS OR KILL
When an ancient pact is broken, powerful witches who use their magic to help humanity become the twisted playthings of demons, and witch hunters-mortal men who once protected them-are cursed with longing to spill their blood: an irresistible craving that will cost witches their lives and witch hunters their souls.
The Wing Slayer Hunters fight this curse, guarding innocent witches until the urge to harm them grows too strong. Then the Wing Slayers must kill their own. Wing Slayer Sutton West has always honored that vow. His own father killed himself rather than go rogue. But now Sutton is tempted as never before by Carla Fisk, a brilliant psychologist and dynamic witch whose twin sister, Keri, was murdered by rogues.
Bound by blood and passion, Carla and Sutton dare not succumb to their deadly attraction. Yet when a mysterious rogue named Styx joins forces with the demon Asmodeus, witch and hunter have no choice but to work together. For Keri's immortal soul is at stake-and with it, balanced on a knife-edge, is the fate of humanity itself.