Tuesday, June 9th, 2009
My Wizard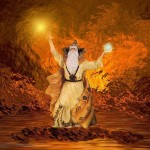 My DSL went down yesterday and I couldn't get it back.  Nothing I did worked…I tried spells, threats, begging, I offered the Internet Gods cauldrons of Appletinis…nada.
Then my husband came home. He spent, oh, ten minutes fiddling with it. And like magic…the DSL started working.
We don't even know what he did…now that's some powerful magic!
Hopefully the Internet and DSL will play nice.
And now, to totally change the subject, is anyone else tired of John and Kate Plus Eight? I'd never even heard of this show until the Big News that they might be cheating on each other.
Seriously, do we care?