Monday, June 15th, 2009
Wine, Witches and Vamps…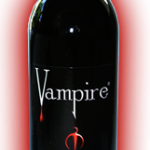 Did you know there are Vampire Wines?
I didn't know that. How did I live this long without finding out? Do you want ot know how I found out? Do you suppose I was down in a cellar with a really hot vampire who was overcome with lust for me?
Nope! But I do have this friend, Laura Wright, who just sold an awesome vampire series to NAL. Remember this name–Laura Wright–she's going to be the Next Big Thing in paranormal! And we'll have her here on the blog when her first vampire book comes out

(Laura has written several Silhouette Desires).
So anyone, we were celebrating her sale this weekend and I thought I'd get her something. So I asked a wine master of the store I was at,  and she said  that there actually Vampire Wines.
I was so excited! Then I found out that the store I was at was out of the Vampire Wine. Bummer. I got her another bottle of wine named EVIL.  But dang, that'll teach me to wait until the last minute!
I just did a quick Google and found Witches Falls Winery  but the label is a little sedate, don't you think? It's not really celebrating witches in all their magical glory. Anyway…
Am I the only one who didn't know vampires and witches are out there fermenting grapes? And which wine would you pick, judging on the label?  Oh, and how was your weekend?
And P.S. to Margaret:  I bought a Jim Butcher book this weekend! Finally!