Friday, June 26th, 2009
In Memory of Farrah…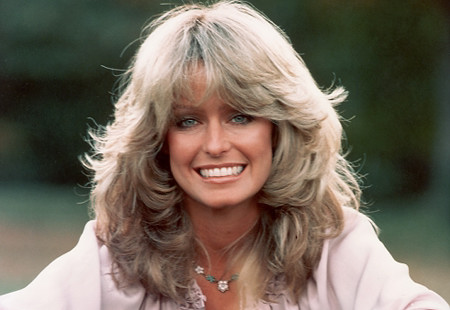 How shocking was yesterday? Both Farrah Fawcett and Michael Jackson dying.  We all expected Farrah's passing, but I sure didn't expect Michael.
I'd like to talk about Farrah.  I first saw her on that brand new show, CHARLIE'S ANGLES when I was fourteen. My dad had just died, we moved to a new state and my mom wasn't doing well coping with the loss. Most of the time I was alone.  My two brothers and my sister were adults with lives of their own. I distinctly remember watching that show,  and how Farrah Fawcett fascinated me, both her character on the show, and the woman fighting to succeed in a male controlled career (and world) . The show was ground-breaking with it's female leads as strong characters. Sure, now the show is kind of silly, but at the time, it was truly was ground -breaking.
Then after the first season that catapulted Farrah to massive success, she quit the show. Again, shocking. But that was Farrah's decision and she stood by it, fighting for her beliefs. She continued that kind of courage right through her entire life, from the movies she chose to her final battle with cancer.
Farrah Fawcett gave me hope in a time when my life was very dark. She showed me that a woman could be strong and fight for what she believed in. That was a powerful message for a fourteen year old girl dealing with grief, loneliness and the usual teenage self image issues.
So for me,  I'd like to lift up an appletini to Farrah Fawcett:  To A live Well Lived. May You Rest In Peace.