Wednesday, June 24th, 2009
Soul Magic Coming Sooner!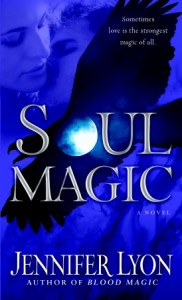 SOUL MAGIC has a new publishing date!
SOUL MAGIC is now an October 2009 release! The actual "on sale" date will be September 30th!
This is great news! I'm thrilled that BALLANTINE (Random House) decided to move up the pub date
Can you all help me spread the word??? It's going to take a little time to get the information changed on the blog and the various places like Amazon etc….and we really want to get the word out!
Okay witches, your turn–what's your good news?  Share anything you have from new jobs to good books you've read! I want to hear it all!
Oh, and not to worry, tomorrow I'll put up the Wing Slayer Worthy Blog