Monday, July 20th, 2009
Expectations and Stuff
Saturday it was 111 degrees in my town! Where do I lodge a protest? Although it sure makes nice pool weather as long as you don't try to walk on the cement.  We also rented the movie NEW IN TOWN. We should have known. We had seen previews for the movie and looked for it in the theaters–it never showed up. Must have gone straight to DVD. Why? Boring! At least that's my opinion. So boring, that while the movie was on, I discovered ants in my kitchen and I was actually grateful for the break in the monotony of the movie. Cleaning up ants was more entertaining than the movie. Seriously, BORING.
I hate ants by the way.  right now I can almost hear them regrouping, strategies, planning more evil to spring on me.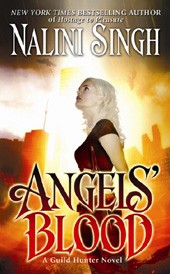 One of my bright spots in my weekend was reading Nalini Singh's ANGEL'S BLOOD. I love that book! It was different, sexy and fast paced. Really cool. I don't recommend it if it's going to bother you that she really twisted Angel Mythology. But if you're willing to do with her world building, then read it!
Reading this book, though, got my thinking about building up reader expectations.  Of course every reader is different. But for me, the sexual tension was very hot.  So hot, that I found the sex scene (which is a payoff scene) a bit less than I was expecting.  In other words, I didn't think the payoff matched the build up. NOW this  didn't diminish my enjoyment of the book,  it's just something that's sticking in my mind. I read other books with no full on sex scenes and don't even notice.  But in this book, I noticed.  I'm curious, do you guys ever feel that way? There's a build up that doesn't quite pay off for you personally?
I still highly recommend ANGEL'S BLOOD!! It is hot.
How was your weekend? And for those of you that went the RWA conference, how was it???