Wednesday, July 22nd, 2009
Wing Slayer Worthy
What do you think?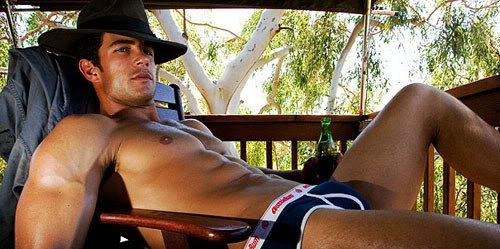 Is he Wing Slayer Worthy?
15 comments to "Wing Slayer Worthy"
Jen, you and Kira always find the BEST GUYS !!! I have no luck – had to sketch a pic of my hero 'cause I can't find a 'real' guy
If either of you see someone who looks like him (you can see my char interview on my latest post) would you forward a pic ? *plead* Kira knows how I like 'em dark hair, dark intense eyes, big shoulders … too bad I can't use that image of Jake …
Oh and yeah – assuredly slayer worthy !!!

Verra, verra nice. Love the hat.
I'm just not an underwear girl, I guess. For some reason, all the hot shots of guys in their undies stop me cold when I get to the elastic.
Maybe it's because the undies effectively stop my wandering eye from dropping lower and lower.

Ban, I'll have to go back and read your character interview again. I have a lot of pics on my files, so you never know. I'll try to remember to do that AFTER I do my wrtiing today!

Margaret, interesting that you mentioned not being an underwear girl! I was just thinking the same thing yesterday when I was trolling for men (pics!!!). I do like this one, but I really like pics of jeans, maybe a button opened, kind of look. That's sexy to me

Commando … hee hee.
And Jen, thank you, not just for checking your files (that'll be hard on you I'm sure ) but for reading the interview.

Ban? Yeah, buddy! Commando for sure.

Jen, I'm…torn about this guy. On the surface he definitely looks Wingslayer worthy but…I need to dig deeper and do some research to see if he really is. Appletinis anyone?

me! Appletini right here! ME ME ME!

I don't know, Jen, somethings missing. Agreeing with Silver here…on the surface he's fineee but–maybe it's the underwear. Like Margaret, not an underwear girl either. Hrm.

Verdict: Toss-up.

And Ban, I'll see what I have and send you my 'special' link.

Ban, I've read your interview before, I just want to skim it again. I will do it before my
night is done!

Silver! So cool to have you back! By all means, let's do appletinis! And yep, take a closer look

Erika, you got your appletini before me!

Kira, imagine him without underwear Okay, I get what you're saying.

Man, you witches are a tough crowd! Only the best of the best for you!

(In case anyone is wondering, I'm losing it–I don't know where my book is going…350 pages into the frist draft and I'm in WTF Land. Sigh.)

Ban, I've only found one pic that's even remotely close. I'm going to your hero. Frankly I think Kira's pic is closer. Do I have your email address?

you do now – I sent you an email. thank you
Comments are closed.