Monday, July 27th, 2009
Monday Again!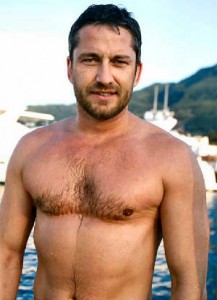 I can't believe it's Monday again! So this weekend we saw THE UGLY TRUTH.  I liked it! And not just because Gerald Butler was in it

It's definitely low brow humor, but the remote control scene had me laughing.  If you don't know what it is, I'm not explaining it!
I finished reading a book that I started off hating. At the half way point I started liking it. Very weird.  Sometimes, it's worth hanging in there. Now I've started the second Harry Dresden book FULL MOON by Jim Butcher.
This really isn't the best pic, but let's vote.  Do we like Gerald Butler? Oh, and how was your weekend?