Friday, July 24th, 2009
Say Cheese!
TGIF Witches!  It's the weekend, let's whip up the Appletinis! and share cheesy pick up lines.  Why? Because I accidentally stumbled onto a website with cheesy pick up lines. I'll start: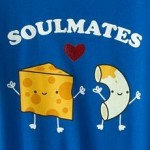 1) I'm new in town, could you give me directions to your apartment?
2) What's the name of your perfume, Catch of the Day?
3) Baby you must be a broom, cause you just swept me off my feet!
4) Your daddy must have been a baker, because you got a nice set of buns.
5) Baby if you were words on a page, you'd be what they call FINE PRINT!
So do you witches have any cheese to share?
Have a great weekend!