Monday, August 17th, 2009
Dog Wars!
Great weekend, I got lots of work done and my oldest son and his girlfriend came out for dinner. They brought my middle son's dog, Bailey, with them and I spent most of the time on the floor playing with the dog.
I love dogs!
The Wizard does not love dogs. He likes Bailey, pets him a little bit then he's done. He does not get down on the floor and play tug of war so long that he wakes up with a cramp in his hand at 3am. So for a few years now, we've been having a dog discussion.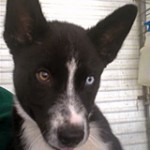 Me: I want a dog. (Here's a pic of a dog from my local pound)
Wizard: We can't. The back yard is mostly pool and cement.
Me: There's enough dirt in the planters and stuff. I want a dog.
Wizard: It gets too hot for a dog out here.
Me:  It'll be a house dog!
Wizard groans: He'll tear up the furniture!
Me: I'll get an older dog from the pound.
Wizard: There's no one to take care of the dog when we leave.
Are you seeing a pattern here? I will not get a dog until Wizard agrees 100%. Dogs and kids should be wanted and loved. So I wait and bug him. I am patient…
Well okay, maybe I was a tad annoyed and deleted the Wizard's picture from my cell phone and replaced it with Bailey's picture. And now I'm calling Bailey my Grand Dog and annoying the bejeebers out of the Wizard.
But let me tell you, Wizard is stubborn. And maybe, possibly, I want a dog in my head more than I do in reality. Dogs require a lot of attention, then there's vet trips and barking and problems…but shhhh…don't tell the Wizard. Bugging him is fun!
So how was your weekend?