Thursday, August 20th, 2009
Do Witches Twitter?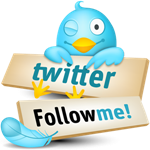 What do you guys think of Twitter? Are you all sending out Tweets?
What do you say? Who do you follow? Why?
I'm really curious. And yeah, I'm pretty sure I'll sign up eventually. But most of you know how bad I am at Facebook!
I sure as heck don't want to be the author that has a Twitter Temper Tantrum. Although authors can always find a place for public ATTs (Author temper tantrums) over reviews on Amazon and various blogs over reviews several times a year.
So tell me, do you Twitter?