Monday, August 24th, 2009
Monday Roundup!
It was a good weekend! Well except for the part where I was cleaning the outside of the dishwasher, hit my thumb and split the nail WAY back onto the nail bed. It hurt too much to even swear.  Which led me to the obvious conclusion:  Cleaning is dangerous and should be avoided. You all with me????
I started reading Nalini Singh's BRANDED BY FIRE and love it so far!
On the Dog Wars, the wizard is still winning. He likes to tease me about it.  All I'm going to say in my defense is that Wizard knew he was teasing a Witch…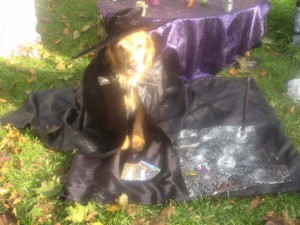 Don't worry, I'll turn him back…eventually.
So how was your weekend?