Thursday, August 27th, 2009
When Is It THE END?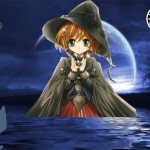 I finished my book yesterday (unless I decide to add, change, delete, tweak or rewrite something else) and here's what I'm wondering…
When is it THE END?
I debated on the ending for this book. I haven't put in an epilogue type of scene, I just ended when the story was over. It might seem abrupt. I really debated over this for a couple weeks.
Then I figured I'll see what my editor says.
Sure, I could put in a feel good ending, but the story is pretty much over.  My gut tells me to leave them wanting more

What do you guys think?
And on a semi-related subject–there were a few times while writing this book that I didn't think I'd ever get to the end.  Writing a book to the end–it takes a special kind of stubbornness (my family says I have stubbornness to spare!). It takes a willingness to stay with the characters when:
1) You've seen them so much of them they no longer seem all that interesting.
2) When their faults seem to outweigh their strengths.
3) When the conflict seems stale and the plot sucks.
4) When it feels like no amount of magic can save the book.
But of course, there's a lot more work to be done–editorial revisions, line edits, copy edits…but I'm not going to think about that right now!
So back to endings…when/where is the best place to end the book? Do you like the ending right where the actions stops and you know things are going to be Happily Ever After, or do you like a glimpse of the Happily Ever After?