Monday, August 31st, 2009
Monday…It's Back!
It's like some evil witch is making Monday appear faster and faster each week!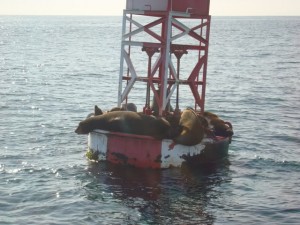 The wizard and I went to the Aquarium of the Pacific on Friday. The Wizard thought it would be a little like Sea World, but it was more like a really small town in Sea World.  Not a whole lot to see. We did have fun though.
Then we went on a harbor cruise, and really enjoyed that.  The best part are these sea lions! They pile on the buoys and sleep the day away. I remember a while back when they piled on a boat in Newport Beach (I think) and sank the boat.  That would not be funny!
Over the weekend I finished reading BRANDED BY FIRE by Nalini Singh. I guess I liked the first half of the book better than the second. I barely started RED-HEADED STEPCHILD by Jaye Wells. She's a new-to-me author. Anyone else read her or this book?
In other news, the Wizard just found out I turned him into a dog on my blog last week. He is plotting revenge. This could be interesting. (I'm just hoping I don't end up on that buoy with the sea lions.)
So tell me about your weekend! It'll brighten up my Monday!