Monday, September 28th, 2009
Mondays Can Be A Witch…
One month until the release of SOUL MAGIC! Okay, look, I did my promo…now for other stuff!
This weekend I finished reading THE BELLY DANCER by DeAnna Cameron. This book is hard to pigeonhole, it's a historical romance, but very different, maybe more Women's Fiction.  I enjoyed learning more about belly dancing and Egyptian Theatre.
After much debate, I started reading ACHERON by Sherrilyn Kenyon. Normally I never read reviews on a book I intend to read. For some reason, I read reviews on this one and they sort of put me off (I know better than that!) But so far, I really like this book!
I also hung out with my sister this weekend. She surprised me with a gift! My sister is like that, she just gives gifts for no reason. She said it reminded her of me…
I took a pictures and I'd like YOUR opinion on that. Does this picture…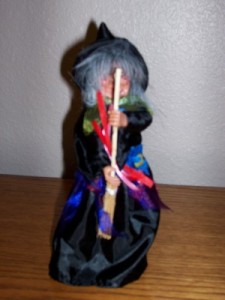 remind you guys of me? Anyway, I love the little witch and she's sitting on my bookshelf in my office.
So how was your weekend?