Monday, October 5th, 2009
Weekend Roundup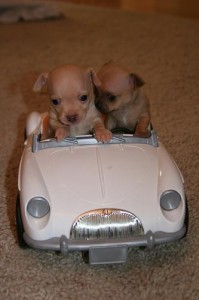 Last week started off bad with the news of Kate Duffy, my Kensington editor's, passing, and ended worse, with a dear friend losing a beloved family member.   So to cheer up a bit…how cute are these puppies?
And I want to thank you all–you guys made the week bearable by repeatedly cracking me up with your comments!
And this week will be better.
Now for my weekend, did you all know that my sister is a biker witch? I had her over for dinner on Saturday and she showed up on a motorcycle. So it's true…my sister is a biker witch! I should have taken pictures!  Okay, she was on the back of the motorcycle, her husband was driving.  But she's still a biker witch!
I finished the book ACHERON a couple days ago.  Amazing! I could never have written a book like that, I'm just blown away.  Kenyon is amazing.  For me, the first two thirds of the story was the strongest. I'm pretty sure that's because no heroine is ever going to be good enough for my beloved Ash

   I haven't started reading another book yet.
Okay, your turn! How was your weekend? What are you reading?