Thursday, October 15th, 2009
Trolls…
My troll story for the week…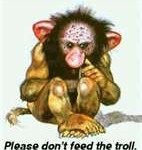 Every couple months we get this yellow bag in the mail with a pick-up date. It's for charity. We  put the items we no longer want in the bag, and set it in front. The truck comes by, picks it up and leaves us a receipt. It's worked great for years.
On Monday the Wizard was home.  We both decided to give away the "good" stuff that we'd been saving. Okay, fine, for me I'm talking about expensive skirts and blouses that will never fit me again.
Ever.  And must you rub in it?
Sorry personal moment there

So we fill the bag with some nice clothes.  The wizard takes it out and puts it on the driveway. Not the curb, not the street, but our driveway. We both go about our days. A couple hours later, the wizard hears a car door and goes to the front window.
Two people in a car stopped, grabbed the bag and threw it in the car then raced off. NOT THE  CLEARLY MARKED CHARITY TRUCK.
That's right, these two drove around and stole the stuff off every one's driveway.  I'm guessing they wanted to have a TROLL garage sale.
That's my troll story this week. What's yours?