Monday, November 2nd, 2009
Monday Mania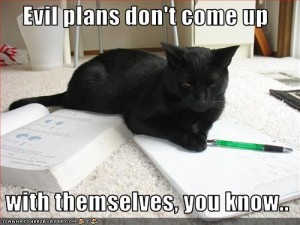 See the picture? That's what I've been saying! It's a lot of work to come up with evil plans!
And now I'm completely slammed with work. Hey…evil plans and books don't come up with themselves…
And how the neck did November sneak up on me?
Anyway, I might be scarce for a while.
But don't leave me alone! Please!
For starters, tell me how your weekend was,  I really want to hear!
My weekend was fine.  Halloween night was a light turnout.  The rest of the weekend I was either working or fretting about working!
Okay you're turn!