Monday, December 7th, 2009
Monday! Aren't We Happy?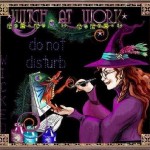 I finally gave in and actually started Christmas shopping!
Okay, Wizard dragged me out. But we got a very good start and I get credit for not whining! I was a very good witch! We even celebrated by going out to dinner.
Today I'm calling all the Wing Slayer Hunters BACK TO WORK! We need to revise Phoenix's book. I'd like to have this done by New Years…
STOP LAUGHING!
Sigh, even I know that's impossible with the holidays taking up so much time. But it's still my goal because I am stubborn like that.
Also this weekend, I read WEDDING AT KING'S CONVENIENCE by Maureen Child.  Maureen always rocks!  Then I started Lisa Jackson's FATAL BURN. I'm not very far into it yet, but so far, so good.
Oh, and while browsing the Internet, I found a recipe for Kahlua Cake that sounds great (I gained three pounds just reading it).  I can't wait to find an excuse to make it (and gain six pounds).
So how was your weekend?
P.S. Seriously, witches, All Wing Slayer Hunters must report for duty!