Tuesday, December 8th, 2009
Bailey TRIES to Teach Wizard To Play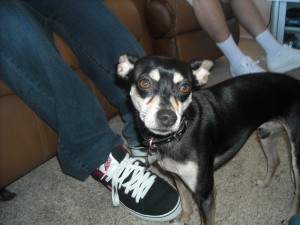 Bailey has a new goal…Teach the Wizard how to Play.
I may have mentioned this before–Wizard is not a Dog Lover. Wizard understand all things numerical (he's an accounting wizard) and all things magical.
He does not understand dogs.
Bailey bounds over to Wizard with his new toy.
Wizard tries to pat Bailey's head.
Bailey tries to shove his toy in Wizard's hand.
Wizard recoils. "Stop that. Hold still so I can pet you." He says this like the dog should understand.
Bailey quickly translates this into his native dog language and realizes Wizard must not  SEE the AWESOME TOY in his mouth. With his incredible problem solving skills, he squeaks his toy so Wizard will hear it and grasp how super cool is it to play tug of war.
Wizard looks at me with a helplessly confused expression. "Why is he doing that?"
I answer,  "He wants to play tug of war with you."
Wizard shudders.  He managed to pet Bailey's head while Bailey is aggressively squeaking the toy. Then he walks away.
Bailey trots over to me. He knows witches are smart and know how to play
This story has no point except that Wizard was tormenting me tonight with comments like. "Don't you wish Bailey was here?"
Sometimes, Wizards are annoying