Monday, December 14th, 2009
The Speech Witch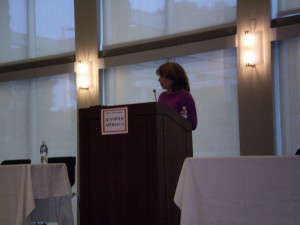 Guess who? This is me giving the dreaded speech on world-building.  It was pouring rain that day, but people braved the wet roads and showed up. Amazing!
And now it's over!
Kate Carlisle was taking the pictures but she was so far to my left it was hard for her to get a good shot.
Of course, my friends said I did well and that's why they are my friends

I'm very sure I could have done better.
Want to see me BEFORE I went on stage? I was trying to focus and mentally prepare and while Kate was tormenting me with the camera…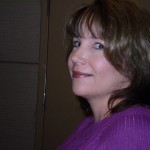 Jen the Witch, right???? But in my defense Kate was sitting there aiming the camera and WAITING for the chance to show me at my witchy best!
She got it, LOLOL!
On the other hand, Kate and Maureen Child both braved the rains to come out and support me.  And more friends helped me prepare the speech including Marianne Donley and Laura Wright.  Thanks guys!
Okay that was my weekend, how was yours?