Monday, December 21st, 2009
Weekend Roundup!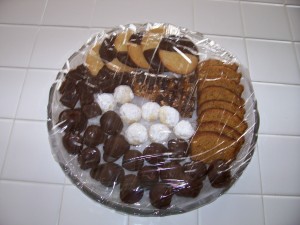 Guess what I've been doing?
Okay the picture is a hint! I spent two days baking!
I made sugar cookies–half dipped in chocolate, pumpkin break, caramel layer cookies, Russian tea cakes, peanut butter balls and chocolate-kahlua truffles. That's all on this plate I took to a family party over the weekend.  Not shown is the chocolate pound cake I also made for the party.
This is the reason I'm invited to family parties, LOL!
I did have one mishap when I grabbed a pan that I somehow forgot had just come out of the oven.  I have three words for that:
Seriously Stupid Witch!
However those were not the words I used when I did it. I won't repeat those words.
Wizard was not happy…until he realized that it was kind of funny. Now he's asking me to touch the BBQ and see if it's hot, or bragging to everyone how I don't need pot holders, I just grab hot pans with my hands.  Uh huh, real funny wizard. Okay, it is funny, he makes me laugh. Especially since he's been doing dishes and helping out where ever I need it.
Oh, and I got to play with Bailey this weekend too.  Everyone in the family is teasing me about how much I love that dog. Is it that obvious? LOLOL!
So how was your weekend? I'm guessing you all were too smart to grab a hot pan right out of the oven!