Thursday, January 28th, 2010
Fun with iPod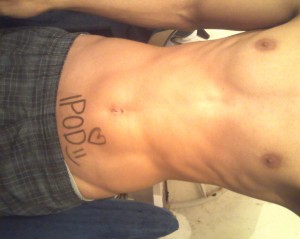 Yesterday, I woke up and dragged my sorry backside to the gym. Wizard had gone to the gym the night before and I felt guilty.
I hate feeling guilty. Even worse, I made chocolate chip cookies this week so I feel guilty and fat.
At least this time, I remembered to take my iPod.
Only my iPod doesn't look like this picture

  Bummer.
So while I was on the treadmill, listening to my music I started wondering if the people next to me could actually HEAR the music.  I have some EMBARRASSING songs on my iPod.
Some examples:
THE LION SLEEPS TONIGHT
I JUST CAN'T HELP BELIEVING  (Elvis Presley)
ALWAYS ON MY MIND (Elvis Presley)
I DREAMED A DREAM (Susan Boyle)
I swear, I have good songs too! Tons of them!
Now there's the one song I've seriously flirted with downloading, but it's Just Too Embarrassing.
Ready?
MONSTER MASH
Okay your turn–what's your embarrassing songs?