Thursday, February 18th, 2010
I Blame the Cake!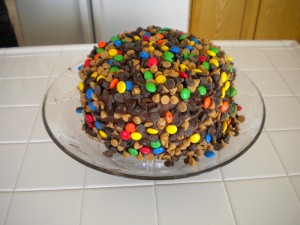 For being late…
It was my son's birthday…my son who is all about healthy living, strict diet and working out.
Except on his birthday.
THREE bags of candy went into this cake, chocolate chips, peanut butter chips and M&Ms.  I baked and frosted the chocolate cake,  Son did the decorating.
I actually ATE some of this cake.   And completely forgot to blog! Instead I went to bed and had nightmares of being attacked by millions of pieces of candy trailing cake crumbs.  Terrifying

My other two sons have NORMAL cakes on their birthday.
So here's my question: If we feed this cake to the flying monkeys, do you think they'd still be able to fly?