Monday, February 22nd, 2010
News and Stuff!
First, the news, the third book (Phoenix's story) is now titled NIGHT MAGIC and it will be released April of 2011. The forth book (Key's story) will be released summer of 2011 but I don't have the exact month yet.
I know it's a long ways off,  but Phoenix and Key are worth the wait, right? (Say yes, I really need Key to be cooperative while I write his book!)
And under the heading of Stuff, it's Bailey Time!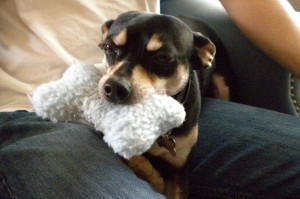 This is Bailey's, "Please don't take my toy," look. It's very effective!
Bailey came over this weekend to visit me! My boys all went out for a Bro Night while Wizard and I stayed home and played with Bailey.
Okay, I played with Bailey. Wizard mostly smirked and said,  "He's a baby."
Whatever.
Once the boys got home, we all watched Hangover.  And yet, it was as stupid the second time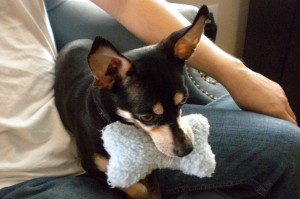 around, but I still laughed.  Sad.
Now I must say, I tried to get a better picture of Bailey, but he doesn't understand.  Every time I get on the ground to get a picture, he runs over and sits next to me, facing away.  If I get frustrated,  he licks my face and tries to make me feel better.  If I try to get a picture of him playing, he's moving too fast to focus.  So I had to get pics of him sitting on the lap of one of my sons.  (Ironically this is in my office–the same chair my boys always come sit in while I'm working when they want to chat.)
So how was your weekend?