Tuesday, March 9th, 2010
Wizard 1 Witch 0
On Saturday afternoon, Wizard and I were sitting in the living room talking.  It dawned on me that hey, neither one of us are doing anything. And so I got an idea…
"Wizard, let's go to the animal shelter!"
He frowned at me. "Why?"
Being clever, I said, "I just want to see the animal shelter."
He rolled his eyes. "You worked at an animal shelter."
"Not THIS one.  Besides, that was *mumble mumble* years ago. Come on, it'll be fun."
Evil laugh. "Not a chance. You're trying to trick me.  You'll show me a cute dog, do some shifty magic and I'll give in and get you a dog."
Totally busted. I tried to deny and cajole, but Wizard  wouldn't budge.
Since then, I've been pouting thinking…If wizard is afraid of me, a witch and a cute little puppy, doesn't that make him, a big…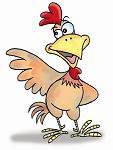 And yeah, I'm going to be in all kinds of trouble for this. Wizard loves to get even!