Monday, March 15th, 2010
Weekend Roundup
I had a great time on Saturday when I did a panel with Susan Squires and Maureen Child on New York Publishing. Maureen has written, I think, 114 books and Susan around 14 or 15.  My books currently published are 9 books and 2 anthologies,  I have one more anthology coming out this year and two more books next year. So between us we have a bit of experience.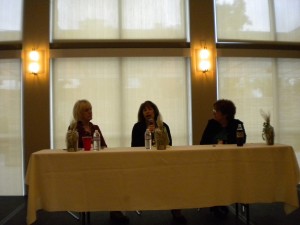 Maureen is on the left, I'm in the middle and Susan is on the right.  I love semi-informal panels like this!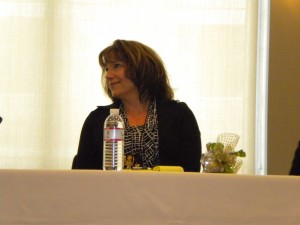 Here I am relieved  that Maureen is talking and not me!
Okay I'll spare you from more pics! I put a quick recap on what we talked about at MurderSheWrites if you're interested.
Over the weekend, I also read Kresley Cole's PLEASURE OF A DARK PRINCE.  It wasn't my favorite of her Immortals After Dark.
Your turn! How was your weekend?