Monday, April 19th, 2010
Monday Roundup!
It's been another busy weekend!
Friday night we went to see DATE NIGHT.  We laughed like lunatics. I really enjoyed the whole–boring married couple getting caught up in a crazy adventure–plot.  I thought Steve Carell and Tina Fey were perfect.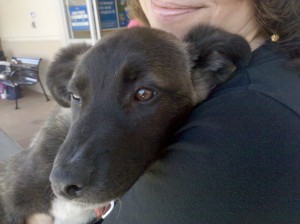 Saturday we went to the animal shelter. Wizard said he was tired of seeing my sad face.  We didn't find the right dog, and I'm not sure what Wizard considers "right." I suspect a wind up TOY dog might be what he has in mind. But keep those spells coming, we're making progress with Wizard!
This is me holding a little beauty at another place my son and I went too.  She's a lover, a collie mix, but probably too big.  She's only three months old here.  It was tough, but I walked away.  I don't think she'll have any trouble finding a home.
After playing with that dog, I went home and FINALLY kicked my book's butt! Okay here' s the sad pathetic part–it was only about five pages, but I've been trying to find a way to get this turning point in for a week. A whole freaking week and every scene I tried failed.  I think I've got it now.  And it sets up the next scenes too.
Also (busy weekend, remember?) I read FAERIE FATE by Silver James! Loved it!  It's a time travel romance, if you haven't read it, what are you waiting for?
By now, you're all probably sick of hearing this, but I just have to say that I'm so excited that BLOOD MAGIC is a finalist in the National Readers Choice Award contest! Congratulations to all my fellow finalists!
I'll stop now. It's your turn, how was your weekend?