Monday, April 26th, 2010
Monday Roundup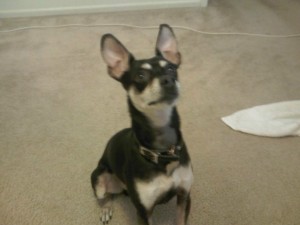 Bailey was waiting for me to get to his house yesterday so we could play!
It was another busy weekend.  Wizard and I went  to see THE BACKUP PLAN.  I was bored. I didn't want to see it but Wizard thought it might be funny.
Silly Wizard, he should listen to his witch

We also had a whole list of chores and errands on Saturday, and I managed to talk Wizard in stopping by a pet store to look at puppies.  On the way home, he said, "You're wearing me down, witch, you're wearing me down."
Realllly? Bwhahahaha!!! Of course two hours later, he's back to telling me we can't get a dog. We'll see, Wizard, we will see!
Sunday I spent all morning cooking and baking, we went to my two sons' house to celebrate one of their birthdays and my mother in law's birthday.  We had fun.  Even better, Bailey is helping my quest for a dog by curling up next to Wizard and going to sleep with his head on Wizard's leg.  I caught Wizard petting him several times.
I didn't get a lot of writing done, but this week will be all work and no play.
How was your weekend?