Monday, May 10th, 2010
I Think It's Defective…
"Mom, I know how bad you want a dog so…" My oldest son pulled out his present from behind his back.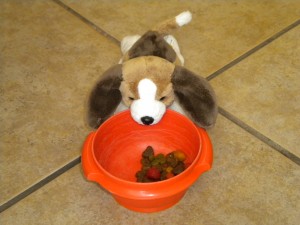 Oh a cute little puppy! But then I tried to play with it–sadly all it knew how to do was lay there and play dead.
Then I tried to feed it, but it wouldn't eat.
I'm starting to think this isn't a real puppy… anyone have a spell (or app) for that? Or a spell to get back at my smart ass kid, LOL!!!
My weekend was good.  I went to my local chapter RWA meeting on Saturday, and Mother's Day on Sunday turned out great in spite of the suspicious puppy.  And Bailey Dog came over to play with me!
So how was your weekend and your Mother's Day?