Tuesday, June 1st, 2010
More Long Weekends!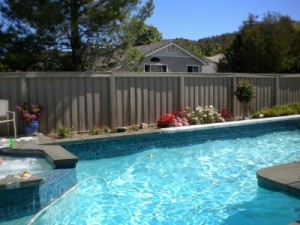 I can't believe it! I set this to post April 1st instead of June 1st! What  dumb witch! LOL! So now I'm late!
We should start a petition or something! We had a great weekend. Saturday we celebrated middle son's birthday by hanging out at the pool. Birthday boy wanted tacos and lemon pound cake,  so that's what I made. It was a blast! My sons were jumping in the pool and begging me to take pictures.
Since I have the stupid rule against showing my sons, here's a picture of the pool when I MISSED the shot. If you look close, you'll see a little yellow rubber duck getting tossed around. I don't know why we have rubber ducks in the pool.
Bailey came over too which  was fun. But Wizard (the smart ass) took Bailey's leash and hooked it up to stuffed puppy and dragged him all over the house, saying,  "Hey Witch, I'm walking your dog!!" The boys fell over laughing at that.
Not funny, Wizard! Okay, maybe I laughed. I wanted to get a picture but I was in the middle of something else.
Saturday I had coffee with Biker Witch (my sister), did a little work and read. So nice! Monday, Wizard and I went to the gym, hung out at the Jacuzzi then made a lobster dinner.
I really think we need more of these long weekends!
So how was your weekend?